Article information
Abstract
Full Text
Bibliography
Download PDF
Statistics
Abstract
Objective
To investigate the surgical and oncological outcomes of hybrid laparoendoscopic single-site (LESS) in partial nephrectomy with reusable components compared with multiport laparoscopy.
Material and method
Hybrid LESS technique with auxiliary 3.5mm trocar (n=20) was compared with conventional multiport laparoscopy (n=26) by a prospective, paired, nonrandomized, and comparative study in partially nephrectomized patients.
Results
Follow-up average was 31±18.6 months. In one case, LESS was converted to laparoscopy. No differences were found regarding age, sex, body mass index, laterality, localization, tumor size or use of double J stent. Dominance of Loop-I (P=0.09) and benign histology (P=0.05) were observed in the LESS group. Neither there were differences regarding operating time, ischemia time, use of hemostatic materials, estimated blood loss, postoperative hemoglobin levels, transfusion or other complications. In any case, to extend the skin incision for specimen extraction was not necessary. Drainage time (P=0.006) and hospital stay (P=0.003) were better in LESS patients. Concerning complications, no significant differences were observed according Clavien-Dindo scale. In laparoscopic group one patient died of pulmonary embolism after hospital discharge. No positive margins were observed in any case. During follow-up neither tumor recurrence nor disease progression were observed.
Conclusions
Regarding surgical outcomes, partial nephrectomy by LESS technique does not imply improvements, excepting shorter hospital stay, probably due to accurate surgical hemostasis and/or selection of cases. No surgical and oncological risks are involved, as well as no improvement in ischemia time, blood loss or transfusion rate. We find no significant difference in cosmetic outcomes.
Keywords:
LESS
Laparoscopy
Partial nephrectomy
Outcomes
Complications
Resumen
Objetivo
Comparar resultados operatorios y oncológicos de la nefrectomía parcial realizada mediante abordaje laparoendoscópico a través de puerto único (LESS) reutilizable y laparoscópico multipuerto.
Material y método
Estudio comparativo prospectivo pareado no aleatorizado de pacientes tratados con nefrectomía parcial mediante abordaje LESS híbrido con trocar auxiliar de 3,5mm (n=20) y con laparoscopia multipuerto convencional (n=26).
Resultados
La media de seguimiento fue 31±18,6meses. Un caso LESS (5%) se reconvirtió a laparoscopia. No hubo diferencias significativas entre grupos con respecto a edad, sexo, índice de masa corporal, lateralidad, localización, tamaño tumoral o empleo de doble-J; aunque hubo dominancia de ASA-I (p=0,09) y de histología benigna (p=0,05) en el grupo LESS. Tampoco hubo diferencias en tiempo operatorio, tiempo de isquemia, empleo de materiales hemostáticos, sangrado estimado, hemoglobina postoperatoria, transfusión u otras complicaciones. Ningún caso precisó ampliar herida cutánea para extracción de espécimen. Los pacientes LESS tuvieron menor tiempo de drenaje (p=0,006) y menor estancia hospitalaria (p=0,003). No hubo diferencias en número ni severidad de complicaciones según escala Clavien-Dindo. Un paciente en grupo laparoscópico falleció por TEP tras el alta hospitalaria. No hubo márgenes positivos ni recidivas o progresión de la enfermedad tumoral en el tiempo evaluado.
Conclusiones
La nefrectomía parcial LESS no implica ventajas en resultados operatorios salvo menor estancia hospitalaria, posiblemente debido a hemostasia operatoria más precisa y/o selección de casos. No conlleva riesgos operatorios y oncológicos, pero tampoco supone mejora en tiempo de isquemia, pérdida hemática o tasa de transfusión. Tampoco supone una ventaja evidente en términos cosméticos.
Palabras clave:
LESS
Laparoscopia
Nefrectomía parcial
Resultados
Complicaciones
Article
These are the options to access the full texts of the publication Actas Urológicas Españolas (English Edition)
Subscribe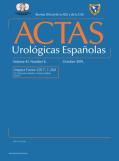 Subscribe to
Actas Urológicas Españolas (English Edition)
Contact
Phone for subscriptions and reporting of errors
From Monday to Friday from 9 a.m. to 6 p.m. (GMT + 1) except for the months of July and August which will be from 9 a.m. to 3 p.m.
Calls from Spain
932 415 960
Calls from outside Spain
+34 932 415 960
E-mail