Full Text
Dear Editor:
Progressive multifocal leukoencephalopathy (PML) is a demyelinating disease of the central nervous system caused by reactivation of the JC virus. The condition usually presents with motor weakness, speech disorders, cognitive deficits, visual impairment, and ataxia,1 and is associated with neuroimaging findings of subcortical white matter lesions which typically do not show contrast uptake or perilesional oedema.2
We present the case of a 43-year-old woman with stage C3 HIV infection who had discontinued antiretroviral treatment. The last CD4 lymphocyte count revealed 1cell/mm3 with a viral load of 56586copies/mL. The patient visited our centre due to involuntary movements affecting all 4 limbs, with no associated systemic symptoms. Examination revealed generalised chorea predominantly affecting the left side of her body, hypophonia, hypometric saccades and smooth pursuit eye movements, hypomimia, bradykinesia during alternating movements of hands and feet (predominantly affecting the right side of her body), and ataxic gait.
From an anatomical viewpoint, these findings were associated with lesions in the internal capsule, basal ganglia, and thalamus in cranial computed tomography (CT) images (Fig. 1A). A complete blood count revealed no abnormalities, and serology tests for hepatotropic viruses, Treponema pallidum, and Toxoplasma gondii yielded negative results.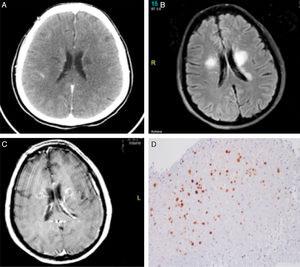 Figure 1.
Neuroimaging and anatomical pathology findings. (A) Cranial CT scan showing bilateral focal hypodensities in the area around the ventricles, internal capsule, and thalamus. (B) FLAIR and (C) T1-weighted sequences. A brain MRI scan revealed lesions to the corona radiata, basal ganglia, and thalamus, predominantly in the left hemisphere, as well as slight oedema and contrast uptake. (D) Anatomical pathology study of brain tissue showing JC virus infection (SV40 antibody staining).
(0.47MB).
A biochemical analysis of the cerebrospinal fluid (CSF) yielded 8cells/mm3, no erythrocytes, a glucose level of 56mg/dL, and a protein level of 19.9mg/dL. Gram and nigrosin staining was negative, ruling out infection due to Leishmania, CMV, Epstein–Barr virus, herpes simplex virus 1 and 2, enterovirus, and varicella-zoster virus. Further tests were performed while we awaited polymerase chain reaction (PCR) results for JC virus.
A nuclear magnetic resonance imaging (MRI) scan revealed patchy lesions to the corona radiata, basal ganglia, and thalamus, associated with oedema and contrast uptake (Fig. 1B).
We started early antiretroviral treatment (abacavir, lamivudine, and raltegravir) plus empirical treatment for cytomegalovirus encephalitis, tuberculosis, toxoplasmosis, and neurosyphilis. Despite this treatment, symptoms progressively worsened and the patient displayed marked bradyphrenia, somnolence, and subsequently right faciobrachiocrural hemiparesis (Fig. 1C). A multidisciplinary team opted for a brain biopsy; the anatomical pathology study of the tissue sample led to a diagnosis of PML (Fig. 1D).
JC virus is a type of polyomavirus which causes PML, a demyelinating disease of the CNS affecting immunocompromised individuals. The condition may present as the initial manifestation of HIV infection.3 A diagnosis of probable PML is made when an immunocompromised patient presents the typical clinical and radiological findings of the disease and tests positive in PCR for JC virus in the CSF. A diagnosis of possible PML is made when presence of the virus is not confirmed.1
The literature reports some cases of encephalitis due to JC virus infection presenting with atypical neurological manifestations. Tallantyre et al.4 describe a case of PML presenting in the form of lower limb muscle weakness, bradykinesia, and bradylalia. A previous article by Fontoura et al.5 reported the case of a patient with HIV and hepatitis C virus infection who developed PML in the form of myoclonic ataxia, progressing to tetraparesis. An MRI scan revealed bilateral lesions to the basal ganglia and primary motor cortex. Gallia et al.6 published the case of an HIV-positive patient with tonic-clonic seizures, dysphagia, disorientation to time and place, and fever. Movement disorders are infrequent in patients with PML, with a maximum incidence of 2.6%, and very few cases of movement disorders as the main or only manifestation of PML have been reported in the literature.7–9
In MR images, lesions are predominantly found in the subcortical white matter and the periventricular area; these lesions are hypointense on T1-weighted and hyperintense in T2-weighted and FLAIR sequences. These lesions rarely involve the thalamus and basal ganglia, have a mass effect, or show contrast uptake.2
Our case is unusual in that PML was associated with atypical clinical and neuroimaging findings, which made it difficult to diagnose the condition: a brain biopsy was necessary in view of the delay in viral diagnosis.
In conclusion, PML is a rare condition that may present with unusual manifestations and should therefore be considered in the differential diagnosis of immunocompromised patients with neurological clinical symptoms.
NOTICE
Undefined index: identificador (includes_ws_v2/librerias/html/item.php[1194])
Please cite this article as: Avellaneda-Gómez C, Torres Iglesias R, Puente Periz V, Güerri Fernández RC. Síndrome extrapiramidal con corea generalizada como forma de presentación atípica de leucoencefalopatía multifocal progresiva. Neurología. 2018;33:129–131.
Copyright © 2015. Sociedad Española de Neurología