Article information
Abstract
Full Text
Bibliography
Download PDF
Statistics
Tables (5)
Table 1. Problems identified by the 16 questions about patient experience included in the questionnaire.

Table 2. Socio-demographic characteristics according to hospital database.
Table 3. Socio-demographic characteristics and experience results from the questionnaire.
Table 4. Item study.
Table 5. Factor loadings.
Abstract
Objective
To develop and test a culturally adapted core set of questions to measure patients' experience after in-patient care.
Material and methods
Following the methodology recommended by international guides, a basic set of patient experience questions, selected from Picker Institute Europe questionnaires (originally in English), was translated to Spanish and Catalan. Acceptability, construct validity and reliability of the adapted questionnaire were assessed via a cross-sectional validation study. The inclusion criteria were patients aged >18 years, discharged within one week to one month prior to questionnaire sending and whose email was available. Day cases, emergency department patients and deaths were excluded. Invitations were sent by email (N=876) and questionnaire was fulfilled through an online platform. An automatic reminder was sent 5 days later to non-respondents.
Results
A questionnaire, in Spanish and Catalan, with adequate conceptual and linguistic equivalence was obtained. Response rate was 44.4% (389 responses). The correlation matrix was factorable. Four factors were extracted with Parallel Analysis, which explained 43% of the total variance. First factor: information and communication received during discharge. Second factor: low sensitivity attitudes of professionals. Third factor: assessment of communication of medical and nursing staff. Fourth factor: global items. The value of the Cronbach alpha was 0.84, showing a high internal consistency.
Conclusions
The obtained experience patient questionnaire, in Spanish and Catalan, shows good results in the psychometric properties evaluated and could be a useful tool to identify opportunities for health care improvement in our context. Email could become a feasible tool for greater patient participation in everything that concerns his health.
Keywords:
Surveys and questionnaires
Patient satisfaction
Validation studies
Translating
Cross-cultural comparison
Patient-centered care
Resumen
Objetivo
Diseñar y validar un conjunto básico de preguntas culturalmente adaptadas para medir la experiencia de los pacientes después de un ingreso hospitalario.
Material y métodos
Siguiendo la metodología recomendada por guías internacionales, se realizó la traducción y adaptación al español y al catalán de un conjunto básico de preguntas sobre experiencia del paciente, seleccionadas de cuestionarios en inglés del Picker Institute Europe. Se realizó un estudio transversal de validación para evaluar la aceptación, la validez de constructo y la fiabilidad del cuestionario adaptado. Los criterios de inclusión seleccionaron adultos dados de alta del hospital entre una semana y un mes antes, y de los que se disponía de su correo electrónico. Se excluyeron los ingresos de menos de 24h, las altas del servicio de urgencias y las altas por defunción. Se les invitó a participar por correo electrónico (N=876) y el cuestionario fue completado a través de una plataforma online. Un recordatorio automático fue enviado a los no respondedores 5 días después del primer correo electrónico.
Resultados
Se obtuvo un cuestionario, en español y en catalán, con una equivalencia conceptual y lingüística adecuada. La tasa de respuesta fue del 44,4% (389 respuestas). La matriz de correlación fue factorizable. Cuatro factores fueron extraídos en un análisis paralelo, que explicaron el 43% de la varianza total. Primer factor: información y comunicación recibida durante el alta; Segundo factor: actitudes poco sensibles de los profesionales; Tercer factor: evaluación de la comunicación con médicos y enfermeras; Cuarto factor: ítems globales. El valor del coeficiente alfa de Cronbach fue de 0,84, indicando una alta consistencia interna.
Conclusiones
El cuestionario de experiencia del paciente obtenido, en español y en catalán, muestra buenos resultados en las propiedades psicométricas evaluadas y puede constituir un instrumento útil para identificar oportunidades de mejora de la asistencia sanitaria en nuestro entorno. El correo electrónico podría convertirse en una herramienta viable para una mayor participación del paciente en todo lo que concierne a su salud.
Palabras clave:
Encuestas y cuestionarios
Satisfacción del paciente
Estudios de validación
Traducción
Comparación intercultural
Atención centrada en el paciente
Article
These are the options to access the full texts of the publication Journal of Healthcare Quality Research
Subscribe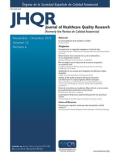 Subscribe to
Journal of Healthcare Quality Research
Contact
Telephone
From Monday to Friday from 9 a.m. to 6 p.m. (GMT + 1) except for the months of July and August which will be from 9 a.m. to 3 p.m.
Calls from Spain
902 88 87 40
Calls from outside Spain
+34 932 418 800
E-mail