Article information
Abstract
Full Text
Bibliography
Download PDF
Statistics
Tables (8)
Tabla 2. Modelo 1: Centro satélite. Gasto en fungibles por cada donante. (Cálculo sobre la actividad anual del CS del H.R.U. de Málaga)
Tabla 3. Modelo 1: Centro satélite. Distribución y coste de las actividades de neonatólogo y auxiliar de enfermería. (Cálculo sobre la actividad anual del CS del H.R.U. de Málaga)
Tabla 4. Modelo 1: Sobrecoste en fungibles y recursos humanos para el BL derivado de la actividad del CS. (Cálculo sobre la actividad anual del CS del H.R.U. de Málaga)
Tabla 5. Modelo 1: Coste anual de mantenimiento del CS
Tabla 6. Modelo 2: Banco de leche independiente. Equipamiento
Tabla 7. Modelo 2: Coste anual de mantenimiento del banco de leche independiente
Tabla 8. Análisis de reducción de coste entre los 2 modelos
Resumen
Introducción
La leche materna donada es, tras la leche de la propia madre, la mejor alternativa para un recién nacido, más si es prematuro o enfermo puesto que tiene la ventaja de ser protectora frente a la enterocolitis necrosante. Actualmente hay en territorio español 13 bancos de leche, pero no son suficientes para que la leche donada llegue a todas las unidades neonatales. Con ese fin nace en el 2012 en la Unidad de Gestión Clínica de Neonatología del Hospital Regional Universitario de Málaga un Centro Satélite (CS) dependiente del banco de leche del Hospital Virgen de las Nieves de Granada.
Objetivo
Valorar la eficiencia de un CS comparado con un banco de leche independiente.
Método
Para el análisis se utiliza un estudio de minimización de costes. Se calcula el coste de la implantación del CS y se compara con el coste de la implantación de un Banco de Leche. Además se compara el mantenimiento anual de los 2 modelos, teniendo en cuenta la actividad realizada desde junio de 2012 hasta agosto de 2015 en el CS.
Resultados
Un CS conlleva respecto a un banco de leche un ahorro de 88.852 euros en equipamiento, y de 24.572 euros anuales en mantenimiento.
Conclusiones
La eficiencia de los CS es debida a un mejor aprovechamiento de los recursos. Un modelo de red de distribución de leche materna donada compuesta por bancos de leche y CS permite alcanzar la equidad en la oferta de leche materna a un coste reducido.
Palabras clave:
Centro satélite
Banco de leche
Pasteurización
Donantes
Receptores
Abstract
Introduction
Donor milk is the second best alternative for a newborn after the mother's own milk, especially when the baby is a premature or a sick child since this milk has the advantage of protecting against necrotizing enterocolitis. There are currently 13 milk banks in Spain, however this is not sufficient to supply all Spanish neonatal units with donor milk. In order to bring donor milk to the babies in Neonatal Unit of the Regional University Hospital of Malaga, a Satellite Centre (CS) was created in 2012, depending on the Milk Bank of Virgen de las Nieves Hospital in Granada.
Aim
Assessing the efficiency of a SC compared to an independent milk bank.
Method
A study of cost minimization is used for the analysis. The cost of the implementation of the SC is calculated and compared to the cost of the implementation of the Milk Bank of Virgen de las Nieves of Granada. Additionally, the maintenance cost per year of the 2 models is compared, taking into account the running phase from June, 2012 through August 2015 in the SC.
Results
A SC implies savings of 88,852 Euro in equipment, and 24,572 Euro per year in maintenance compared to an independent milk bank.
Conclusions
The efficiency of the SC is due to a better use of resources. A distribution network model of donor human milk, consisting of milk banks and SC, makes it possible to equally supply human milk to premature infants with a reduced cost.
Keywords:
Satellite center
Milk bank for donated mother's milk
Pasteurization
Donors
Recipient
Article
These are the options to access the full texts of the publication Journal of Healthcare Quality Research
Subscribe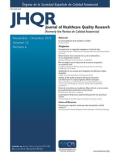 Subscribe to
Journal of Healthcare Quality Research
Contact
Telephone
From Monday to Friday from 9 a.m. to 6 p.m. (GMT + 1) except for the months of July and August which will be from 9 a.m. to 3 p.m.
Calls from Spain
902 88 87 40
Calls from outside Spain
+34 932 418 800
E-mail