Full Text
Case report
A 63-year-old woman, with no relevant medical history, came to Accident and Emergency with a one-week history of right upper quadrant abdominal pain, fever and asthenia. On arrival, she was haemodynamically stable, with pallor of her skin and mucous membranes, and her abdomen was distended, tympanic and painful in the right upper quadrant, with localised guarding. Blood test showed: 16,770leucocytes/μl (91% neutrophils); haemoglobin 10g/dl; and raised lactic acid levels (5.66mmol/l). Abdominal CT scan revealed a sigmoid neoplasm with locoregional adenopathic conglomerate and multiple large bilobar liver metastases. The largest of these had air bubbles inside, compatible with a necrotic and infected metastatic lesion, with pneumoperitoneum around it as a result of it having ruptured (Figs. 1–3).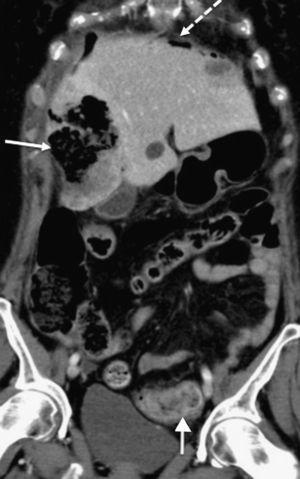 Fig. 1.
(0.12MB).
CT scan of abdomen (coronal oblique plane) with intravenous contrast. Necrotic and abscessed liver metastases (continuous arrow with solid head) complicated by pneumoperitoneum (dotted arrow) and associated with neoplasm-related thickening in sigmoid colon (continuous arrow with open head).
Outcome
In view of the clinical and radiological findings, it was decided to start empirical treatment with broad-spectrum antibiotics (piperacillin-tazobactam plus metronidazole) combined with ultrasound-guided percutaneous drainage of the gas-forming abscess. A sample of the abscess was sent for microbiological testing. After initially making clinical improvement, at 48h the patient developed refractory septic shock, and she died seven days after her admission to hospital. Microscopic examination of the Gram-stained abscess revealed the presence of polymorphonuclear leukocytes associated with sporulated Gram-positive bacilli. After anaerobic culture of the sample, C. septicum was isolated, sensitive to penicillin, amoxicillin-clavulanic acid, imipenem, clindamycin and metronidazole. The post-mortem examination confirmed the existence of a stage IVa infiltrating adenocarcinoma of the sigmoid colon.
Comments
Gas-forming liver abscesses account for 7–24% of pyogenic liver abscesses. Although usually caused by gas-producing fermenting bacteria such as Klebsiella pneumoniae or Escherichia coli,1Clostridium septicum has been identified as a cause of gas-forming liver abscesses in metastatic colon cancer,2–5 breast cancer6 and choriocarcinoma.7
C. septicum infection is rare, being responsible for 1.3% of Clostridium infections.8 There is a great deal of variation in the way it presents, from simple contamination of a wound to fulminant septic processes such as gas gangrene, muscle necrosis or abscesses in solid organs.9 It has been associated with haematological diseases, immunosuppressive states, diabetes and gastrointestinal malignancies, often hidden, as in our case.8 The bacteria access the bloodstream through small ulcerations in the mucosa of the bowel or neoplasm wall. Its significant pathogenicity, with destruction of tissues and alteration of capillary permeability, is mediated by potent toxins and enzymes, especially alpha-toxin.9 Large metastases or necrotic liver tissue provide the ideal medium for its growth, without affecting healthy liver tissue.
It is uncommon for pyogenic hepatic abscesses to burst. In a series of 424 patients, Chou et al. report a rupture rate of 5.4%.10 If the abscess contains gas, it can cause pneumoperitoneum without associated hollow viscus perforation, but this is also uncommon.2,5 As in the case described by Sucandy et al., our patient started with pneumoperitoneum as the first clinical manifestation of her disease.5 The characteristic image of gas-forming abscess in liver metastases from colon cancer led us to diagnose suspected C. septicum infection, which was confirmed after isolation of the bacteria in the abscess sample. Apart from treatment solely with broad-spectrum antibiotics,6 cases of management with percutaneous drainage2–4 or debridement of the abscess have been described in the case of laparotomy as a result of complication of the primary tumour.3,5
In our case, the abdominal CT scan did not show complications related to the primary tumour. Therefore, with the advanced nature of the underlying disease, we chose antibiotic treatment and percutaneous drainage. The patient initially made good progress, but after 48h her condition suddenly deteriorated.
In conclusion, C. septicum infection should be considered in the differential diagnosis of a gas-forming liver abscess in the context of a patient with metastatic adenocarcinoma of the colon, as, although rare, it is associated with a high mortality rate.
Please cite this article as: Armas Ojeda MD, Roque Castellano C, Hernández Vicente G, Bordes Benítez A. Una causa infrecuente de absceso hepático gaseoso. Enferm Infecc Microbiol Clin. 2017;35:678–679.
Copyright © 2016. Elsevier España, S.L.U. and Sociedad Española de Enfermedades Infecciosas y Microbiología Clínica