Article information
Abstract
Full Text
Bibliography
Download PDF
Statistics
El síndrome de baboon fue descrito por primera vez por Andersen en 1984 que lo definió como la presentación clínica de una dermatitis de contacto sistémica caracterizada por la presencia de prurito y erupción maculopapular eritematosa confluente en el área de los glúteos y de las flexuras mayores que aparece varias horas después e incluso varios días, tras el contacto con un fármaco u otro agente. La distribución de las lesiones es patognomónica aunque se desconoce la patogénesis. En la mayoría de los casos descritos, la anatomía patológica de las lesiones confirman cambios inespecíficos de dermatitis. Se han demostrado numerosos fármacos como desencadenantes de este tipo de reacciones. No obstante, el agente más frecuente es el mercurio, según numerosos casos publicados. Otros agentes causantes son: niquel, diferentes antibióticos, heparina, aminofilina, pseudoefedrina, terbinafina e inmunoglobulinas.
Palabras clave:
Baboon syndrome
Contact dermatitis
Systemic contact dermatitis
Drug allergy
Andersen et al described baboon syndrome in 1984. It was characterized by a clinical presentation of systemic contact dermatitis with pruritic and confluent maculopapular light-red eruption, localized in the gluteal area and the major flexures, developed several hours or days after drug or agent contact. This syndrome has a pathognomonic distribution but its cause has not been elucidated yet. Histopathology of the lesions shows non-specific features of dermatitis. Several drugs have been previously described as responsible for the Baboon syndrome origin. Mercury is the most frequent implicated agent; other agents are nickel, different antibiotics, heparine, aminophylline, pseudoephedrine, terbinafine and immunoglobulins
Keywords:
Síndrome de baboon
Dermatitis de contacto
Dermatitis de contacto sistémica
Alergia a medicamentos
Article
These are the options to access the full texts of the publication Allergologia et Immunopathologia
Subscribe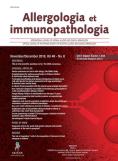 Subscribe to
Allergologia et Immunopathologia
Contact
Telephone
From Monday to Friday from 9 a.m. to 6 p.m. (GMT + 1) except for the months of July and August which will be from 9 a.m. to 3 p.m.
Calls from Spain
902 88 87 40
Calls from outside Spain
+34 932 418 800
E-mail