Article information
Abstract
Full Text
Bibliography
Download PDF
Statistics
Tables (4)
Tabla. I. Calendario Vacunal de la Asociación Española de Pediatría 2001-2002 (Comité Asesor de Vacunas de la AEP)

Las reacciones adversas a las vacunas son muy variadas, desde una leve reacción local hasta un desenlace fatal ocasionando la muerte. Son muchas las reacciones adversas que en los últimos años se han atribuido a las vacunas y muchas de ellas de manera injustificada. Según su causa, de acuerdo con la OMS, se pueden clasificar así: Reacciones inducidas por la vacunación (por un efecto propio de la vacuna o por una idiosincrasia). Reacciones debidas a errores en el almacenamiento, manipulación y/o administración. Reacciones coincidentes: no existe relación de causalidad. Las reacciones por hipersensibilidad se pueden clasificar en seis apartados según el agente causal: Reacciones por algún componente del agente infeccioso o producto de él. Reacciones por adyuvantes: hidróxido de aluminio. Reacciones por estabilizador: gelatina. Reacciones por conservantes: tiomersal. Reacciones a antibióticos: neomicina. Reacciones a un medio de cultivo biológico: células de embrión de pollo. El niño alérgico no debe ser excluido del calendario normal de vacunación. Inmunológicamente el individuo alérgico es mas susceptible a la infección y padecimiento de enfermedades microbianas o víricas que a menudo juegan un papel agravante. La rubéola, tosferina y gripe suelen agravar frecuentemente la alergia de tipo respiratorio. La no vacunación comporta un riesgo importante a padecer enfermedades graves como poliomielitis, tétanos, difteria, etc. Las técnicas de recombinación genética y la producción de anticuerpos monoclonales permitirán, en un futuro no muy lejano, disponer de vacunas a partir de organismos que no pueden ser cultivados en el laboratorio o que producen débiles cantidades de antígeno, poder identificar aquellos antígenos con máximo poder inmunógeno y en consecuencia vacunas extremadamente puras. Las reacciones adversas a vacunas remitidas a nuestro Servicio oscilan entre el 0,59 % y el 1,27 % de primeras visitas en los últimos tres años. Hemos recogido un total de 48 reacciones adversas a vacunas. De ellas, 44 han sido atribuidas a la antitetánica (92 %), 2 a la triple vírica (4 %) y 2 (4 %) a la de meningitis A y C. En cuanto a la clínica: 11 casos de urticaria, 7 urticaria con angioedema, 5 pseudo-choque, 4 fiebre y urticaria, 4 reacciones locales, 3 llanto persistente con exantema, 3 reacciones locales gigantes con angioedema de la extremidad, 3 anafilaxias, 2 fiebre > 39.5 °C, 1 broncoespasmo, 1 brote de dermatitis atópica grave. Fue necesario realizar pauta de hiposensibilización a toxoide tetánico en 20 pacientes (45 %); en tres de ellos no se pudo llegar a finalizar por presentar urticaria generalizada, pero todos ellos llegaron a presentar títulos protectores con vacuna diluida.
Palabras clave:
Vaccine reaction
Thiomersal
Neomycin
Adjuvants
Aluminium hydroxide
Tetanus toxoid
Desensitization
Adverse reactions to vaccines are highly varied, ranging from mild local reactions to fatal outcomes. In the last few years many adverse reactions have been attributed to vaccines, often without justification. In agreement with the World Health Organization, these reactions can be classified as follows, depending on the cause: vaccination-induced reactions (due to an effect of the vaccine itself or to an idiosyncrasy); reactions due to errors in storage, manipulation and/or administration; and coincidental reactions (no causal relationship with the vaccine). Hypersensitivity reactions fall into six categories, depending on the causative agent: reactions due to some component of the infectious agent or one of its products; reactions due to adjuvants: aluminium hydroxide; reactions due to stabilizers: gelatin; reactions due to preservatives: thiomersal; reactions due to antibiotics: neomycin; and reactions due to a biological culture medium: chicken embryo cells. Allergic children should not be excluded from the normal vaccine calendar. Immunologically, allergic individuals are more susceptible to infection and to microbial and viral diseases, which often play an aggravating role. Rubella, whooping cough, and influenza usually exacerbate respiratory allergies. Non-vaccination carries a marked risk of contracting serious diseases such as poliomyelitis, tetanus, and diphtheria, etc. In a not too distant future, the techniques of genetic recombination and monoclonal antibody production will allow the creation of vaccines from organisms that cannot be cultivated in the laboratory or that produce small quantities of antigen. These techniques will also lead to identification of the antigens with the greatest immunogenic power and, consequently, to extremely pure vaccines. The adverse reactions to vaccines referred to our service account for between 0.59 % and 1.27 % of first visits in the last three years. We recorded a total of 48 adverse reactions to vaccines. Of these, 44 were attributed to the tetanus vaccine (92 %), 2 to the measles-mumps-rubella vaccine (4 %) and 2 to the meningitis A and C vaccine (4 %). Clinical features consisted of urticaria (11 cases), urticaria with angioedema (7 cases), pseudo-shock (5 cases), fever and urticaria (4 cases), local reactions (4 cases), persistent crying with exanthema (3 cases), giant local reactions with angioedema of the limb (3 cases), anaphylaxis (3 cases), fever > 39.5 °C (2 cases), bronchospasm (1 case), and severe atopic dermatitis (1 case). A regimen of hyposensitization to tetanus toxoid was required in 20 patients (45 %); in three, this could not be completed due to generalized urticaria but all the patients presented protective titers with diluted vaccine.
Keywords:
Reacción vacunal
Tiomersal
Neomicina
Adyuvantes
Hidróxido de aluminio
Toxoide tetánico
Desensibilización
Article
These are the options to access the full texts of the publication Allergologia et Immunopathologia
Subscribe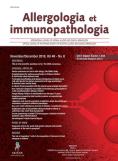 Subscribe to
Allergologia et Immunopathologia
Contact
Telephone
From Monday to Friday from 9 a.m. to 6 p.m. (GMT + 1) except for the months of July and August which will be from 9 a.m. to 3 p.m.
Calls from Spain
902 88 87 40
Calls from outside Spain
+34 932 418 800
E-mail