Article information
Abstract
Full Text
Bibliography
Download PDF
Statistics
Tables (5)
Figura 1. --Metabolismo del ácido araquidónico. AA: ácido araquidónico; CO: cicloxigenasa; 12-15-HETE: ácido 12 y ácido 15-hidroxieicosatetraenoico; 5-HPTE: 5-hidroperóxidoeicosatetraenoico; LO: lipoxigenasa; LT: leucotrienos; LX: lipoximas; PG: prostaglandinas; PGI: protaciclina; TX: tromboxano.

Tabla 1. Relación IC50 COX-2/ IC50 COX-1
, sin embargo se precisan más estudios en niños en relación con otras alternativas.Las reacciones adversas al ácido acetilsalicílico (aspirina, AAS) y otros antiinflamatorios no esteroideos (AINEs) son la segunda causa de reacción adversas a medicamentos (RAM) tras los beta-lactámicos, con manifestaciones clínicas diversas, pudiendo afectar a distintos órganos. Las reacciones digestivas (pirosis, vómitos, gastralgias), neurológicas (tinnitus, sordera, vértigos), discrasias sanguíneas, nefrotóxicas y hapatotóxicas son bien conocidas. Los AINEs son los fármacos de elección en el tratamiento de las artropatías crónicas y otras conectivopatías infantiles y además son de uso común en el tratamiento de los procesos febriles e inflamatorios agudos. No todos los AINEs están autorizados para su uso en edades pediátricas, pero el espectro de utilización es variable teniendo en cuenta la entidad para la que se indican y las diferentes legislaciones entre países. En cuanto a la prevalencia de la intolerancia al AAS en pacientes con asma bronquial, los trabajos publicados son bastante discordantes. Estas diferencias se pueden ser por: 1) El método de selección de los pacientes asmáticos en estudio, que será distinta si se incluyen todos los asmáticos o sólo los asmáticos corticodependientes. 2) El método utilizado para el diagnóstico, que sea bien por criterios clínicos o mediante un test de provocación oral, lo que dará un número diferente de enfermos diagnosticados de la intolerancia. En niños, menores de 10 años, la prevalencia es baja, incluyendo los niños que padecen asma; entre 10 y 20 años de edad, se estima en un 10 %. Algunas hipótesis tratan de explicar los mecanismos por los que tienen lugar las reacciones adversas a AINEs. Una de ellas basa la reacción en un mecanismo inmunológico de tipo reagínico, pero sólo en casos excepcionales se ha podido demostrar. La teoría de la vía de ciclooxigenasa, la actualmente más aceptada, se basa en la capacidad de los AINEs en inhibir la vía de la ciclooxigenasa del metabolismo del ácido araquidónico, con la consiguiente depleción de protaglandinas, y el aumento de leucotrienos. El descubrimiento de las dos isoformas de las enzimas de la ciclooxigenasa, la COX-1 y la COX-2, ha supuesto un gran avance en la comprensión del mecanismo de acción de los AINEs, así como aclara el problema de las reactividades cruzadas. La teoría de la infección viral, postula la hipótesis de que el asma inducida por aspirina es fruto de una infección viral crónica ya que tras la exposición inicial al virus, se producirían linfocitos citotóxicos. Su actividad sería inhibida por la PGE2; el AAS y otros AINEs, bloquean la producción de PGE2 y permiten que los linfocitos citotóxicos ataquen y eliminen las células del tracto respiratorio infectadas por virus. Durante esta reacción, se liberan enzimas lisosómicas y mediadores, que pueden precipitar una crisis de asma. Clínicamente se han identificado cinco tipos de reacciones: 1. Enfermedad respiratoria con sensibilidad a aspirina. 2. Enfermedad urticarial por aspirina. 3. Reacciones alérgicas a AINEs y aspirina. 4 y 5. Meningitis aséptica y Neumonitis por hipersensibilidad, reacciones que son excepcionales y están publicadas como casos clínicos, nunca se han asociado con al AAS o paracetamol, y suelen darse en pacientes con tratamientos prolongados. El diagnóstico se basa en la historia clínica detallada. Las pruebas cutáneas no son válidas y las pruebas in vitro no son de uso común. Las pruebas de provocación con AAS y AINEs son las que sirven para identificar definitivamente a los pacientes sensibles, teniendo siempre en cuenta sus indicaciones y limitaciones. En niños se observan ciertas particularidades de las reacciones adversas a AINEs, en relación a su incidencia y sintomatología clínica. El paracetamol es considerado como la alternativa terapéutica
Palabras clave:
Adverse drug reactions
Acetylsalicylic acid
ASA
Aspirin
NSAID
Non-steroidal anti-inflammatory drugs
Adverse reactions to acetylsalicylic acid (aspirin, ASA) and other non-steroidal anti-inflammatory drugs (NSAIDs) are the second most important cause of adverse drug reactions (ARDs) after beta-lactams. They produce various clinical manifestations and can affect different organs. Gastrointestinal reactions (pyrosis, vomiting, gastralgia), neurological reactions (tinnitus, deafness, vertigo), blood dyscrasias, and nephrotoxic and hepatotoxic reactions are well known. NSAIDs are the drugs of choice in the treatment of chronic arthropathies and other childhood connective-tissue diseases and are also commonly used in the treatment of febrile and acute inflammatory processes. Not all NAIDs are authorized for use in the pediatric population but their spectrum of use varies according to the entity for which they are indicated and the legislation of the country. Published studies on the prevalence of aspirin intolerance in patients with bronchial asthma show a fair amount of disagreement. This may be due to (i) the method of selecting asthmatic patients for the study, which differs according to whether all asthmatic patients are included or only those dependent on corticoids; (ii) the diagnostic method used, whether based on clinical criteria or oral provocation tests, which will affect the number of patients with a diagnosis of intolerance. In children aged less than 10 years, including children with asthma, the prevalence is low, while among children and young adults aged 10-20 years old, the prevalence is estimated at 10 %. Some hypotheses attempt to explain the mechanisms through which adverse reactions to NAIDs take place. One hypothesis attributes the reaction to a reaginic immunological mechanism but this hypothesis has only been confirmed in exceptional cases. The theory of the cyclooxygenase pathway, currently the most widely accepted, is based on the ability of NSAIDs to inhibit the cyclooxygenase pathway of arachidonic acid metabolism, leading to prostaglandin depletion and an increase in leukotrienes. The discovery of two isoforms of the cyclooxygenase enzymes, COX-1 and COX-2, has represented a great advance in our understanding of the mechanism of action of NSAIDs and has also elucidated the problem of cross-reactivities. According to the theory of viral infection, aspirin-induced asthma could be caused by chronic viral infection since, after initial exposure to the virus, cytotoxic lymphocytes are produced. Their activity is inhibited by prostaglandin E2 (PGE2); aspirin and other NSAIDs block PGE2 production and allow cytotoxic lymphocytes to attack and eliminate the respiratory tract cells infected by the virus. During this reaction lysosomal enzymes and mediators are released, which could precipitate an asthmatic crisis. Clinically, five types of reaction have been identified: 1. Respiratory illness with aspirin sensitivity. 2. Aspirin-induced urticarial disease. 3. Allergic reactions to NSAIDs and aspirin. 4 and 5. Aseptic meningitis and pneumonitis due to hypersensitivity. The latter are exceptional and are published as case reports. They have never been associated with aspirin or acetaminophen and usually occur in patients undergoing prolonged treatment. Diagnosis is based on a detailed history. Skin tests are not valid and in vitro tests are not widely used. Provocation tests with aspirin and NSAIDs definitively identify sensitized patients but their indications and limitations should be kept in mind. In children, certain features of adverse reactions to NSAIDs are observed in relation to their incidence and clinical manifestations. Acetaminophen is considered the drug of choice but further studies of other alternatives in children are required.
Keywords:
Reacciones adversas a medicamentos
Acído acetil salicílico
AAS
Aspirina
AINE
Antiinflamatorios no esteroideos
Article
These are the options to access the full texts of the publication Allergologia et Immunopathologia
Subscribe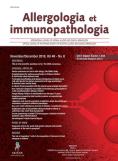 Subscribe to
Allergologia et Immunopathologia
Contact
Telephone
From Monday to Friday from 9 a.m. to 6 p.m. (GMT + 1) except for the months of July and August which will be from 9 a.m. to 3 p.m.
Calls from Spain
902 88 87 40
Calls from outside Spain
+34 932 418 800
E-mail