Article information
Abstract
Full Text
Bibliography
Download PDF
Statistics
Paciente: Niña de cinco años que consulta por otorrea crónica, adenopatías cervicales y celulitis de rodilla. Además de esas lesiones, en la exploración física se observó la existencia de eccema en cuero cabelludo, cuello, región perineal y umbilical, y la persistencia de la dentición temporal y la definitiva (doble arcada dental). Las pruebas complementarias demostraron niveles de IgE de 23.969 UI/l, IgD 440U/L, IgG 23.000 mg/L, IgA 4.220 mg/L e intradermorreacción a candidina negativa, siendo normal el resto del estudio inmunológico. La tomografía axial computada (TAC) reveló la existencia de otomastoiditis bilateral. En los cultivos de secreción ótica se aisló Cándida albicans. El diagnóstico definitivo fue de síndrome de Hiper IgE. La evolución clínica fue favorable con tratamiento antibiótico y antifúngico y está en control ambulatorio periódico.
Palabras clave:
Hyper-IgE syndrome
Hyper-IgD
Otomastoiditis
Immunoglobulin E (IgE)
Immunodeficiency
Patient: A 5-year-old girl presented with chronic otorrhea, cervical adenopathies and cellulitis of the knee. In addition to these lesions, physical examination revealed eczema on the scalp, neck, perineal and umbilical regions and the persistence of deciduous teeth with adult teeth (double dental arch). Complementary investigations showed the following concentrations: IgE 23,969 UI/l, IgD 440U/L, IgG 23,000 mg/L, and IgA 4,220 mg/L. Intradermal skin testing to Candida was negative and the results of the remaining immunological studies were normal. Computerized axial tomography revealed bilateral otomastoiditis. Candida albicans was isolated from ear secretion cultures. The definitive diagnosis was hyper IgE syndrome. The patient responded favorably to antibiotic and antifungal therapy and is currently undergoing period outpatient monitoring.
Keywords:
Síndrome Hiper-IgE
Hiper-IgD
Otomastoiditis
Inmunoglobulina E (IgE)
Inmunodeficiencia
Article
These are the options to access the full texts of the publication Allergologia et Immunopathologia
Subscribe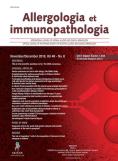 Subscribe to
Allergologia et Immunopathologia
Contact
Telephone
From Monday to Friday from 9 a.m. to 6 p.m. (GMT + 1) except for the months of July and August which will be from 9 a.m. to 3 p.m.
Calls from Spain
902 88 87 40
Calls from outside Spain
+34 932 418 800
E-mail