Article information
Abstract
Full Text
Bibliography
Download PDF
Statistics
Tables (5)
Table 2. Evolution of drug treatments.
Table 3. Questionnaire answers from parents or guardians about improvements in bronchial hyperreactivity. (3) A lot; (2) considerably; (1), a bit; (0) nothing.
Table 4. Anthropometric assessments.
Table 5. KIDMED test (percentage).
Abstract
Background
The incidence of bronchial hyperreactivity has increased to one-third of the population in developed countries, which requires the adoption of preventive and therapeutic measures. The objective of the present study was to assess the effects of a traditional Mediterranean diet on patients diagnosed with childhood asthma and determine if there is a beneficial effect from this dietary intervention.
Methods
Prospective before–after comparison study of 50 girls and 54 boys aged 1–5 years, who were enrolled in the 1-year programme "Learning to Eat from the Mediterranean", designed to promote the adoption of a traditional Mediterranean diet. We studied the clinical and therapeutic variables and anthropometric measurements.
Results
All studied symptomatic indicators (number and intensity of asthmatic attack, infections and hospital admissions) showed a positive and statistically significant evolution of bronchial hyperreactivity from the first weeks of the intervention onwards. Throughout the treatment, 32.2% of patients remained free of crisis, 35.3% of the patients only had one attack throughout the year and 24.9% had two episodes, compared to 4.73 episodes on average in the previous year. The use of inhaled corticosteroids markedly decreased from 3.92±1.61 to 1.11±1.09 times per patient per year (P<0.001) and that of inhaled bronchodilators decreased from 4.14±1.61 to 1.12±1.40 (P<0.001). As a result, the families involved in the programme reported a high level of satisfaction.
Conclusions
The adoption of a traditional Mediterranean diet could contribute significantly to the improvement of patients diagnosed with childhood asthma.
Keywords:
Bronchial hyperreactivity
Childhood asthma
Dietary pattern
Dietary programme
Mediterranean diet
Nutritional assessment
Article
These are the options to access the full texts of the publication Allergologia et Immunopathologia
Subscribe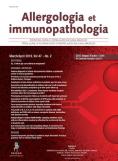 Subscribe to
Allergologia et Immunopathologia
Contact
Telephone
From Monday to Friday from 9 a.m. to 6 p.m. (GMT + 1) except for the months of July and August which will be from 9 a.m. to 3 p.m.
Calls from Spain
902 88 87 40
Calls from outside Spain
+34 932 418 800
E-mail