Article information
Abstract
Full Text
Bibliography
Download PDF
Statistics
Fundamento: Inmunodeficiencia y autoinmunidad pueden coexistir en el mismo individuo. Muchas enfermedades de inmunodeficiencia, principalmente aquellas en las que predomina una deficiencia de anticuerpos, asocian procesos autoinmunes. Describimos la prevalencia de enfermedad autoimmune en estos pacientes. Métodos y resultados: Estudio retrospectivo de revisión de historias clínicas de una cohorte de 152 pacientes con deficiencia primaria de anticuerpos atendidos en la Unidad de Inmunología Clínica del Hospital Gregorio Marañón en Madrid: inmunodeficiencia variable común (IDVC) (n = 35), deficiencia de IgA (n = 43), deficiencia específica de subclases de IgG (n = 56), deficiencia de formación de anticuerpos con inmunoglobulinas normales (n = 14) y agammaglobulinemia ligada al sexo (n = 4). De los 152 pacientes 35 tuvieron enfermedades autoinmunes (23 %). Catorce pacientes padecían citopenias autoinmunes (9,2 %), 8 enfermedad autoinmune del aparato digestivo (5,3 %), 6 enfermedad autoinmune endocrina (3,9 %), 6 conectivopatías autoinmunes (3,9 %) y otros 4 vitíligo. La presencia de enfermedad autoinmune fue más frecuente en la IDVC (37,1 %) que en la deficiencia de IgA (25,5 %) o que en la deficiencia de subclases de IgG (12,5 %). El 37 % de los episodios autoinmunes ocurrieron antes del diagnóstico de la inmunodeficiencia. En 16 pacientes (10,5 %) se detectaron autoanticuerpos sin datos clínicos de actividad de un proceso autoinmune. Conclusiones: Los pacientes con deficiencia primaria de anticuerpos pueden tener procesos autoinmunes de diverso tipo. El diagnóstico de proceso autoimmune debe sospecharse para su detección precoz y tratamiento apropiado en pacientes con inmunodeficiencia.
Palabras clave:
Immunodeficiency
Hypogammaglobulinemia
Autoimmunity
Common variable immunodeficiency
Selective IgA deficiency
Background: Immunodeficiency and autoimmune phenomena may occur concomitantly in the same individual. Many immune deficiency syndromes, mainly humoral defects, are associated with autoimmune disorders. In the present study, we describe the frequency of autoimmune disorders in these patients. Methods and results: We performed a retrospective review of the medical records of a cohort of 152 patients with primary antibody deficiency in the Clinical Immunology Unit of the Gregorio Marañon University Hospital in Madrid: common variable immunodeficiency (CVID) (n = 35), IgA deficiency (n = 43), specific IgG subclass deficiency (n = 56), antibody deficiency with normal immunoglobulin (n = 14) and X-linked agammaglobulinemia (n = 4). Of the 152 patients with primary antibody deficiencies, autoimmune disorders were found in 35 (23 %). Autoimmune hematologic disease was found in 14 patients (9.2 %), autoimmune diseases of the gastrointestinal tract in eight (5.3 %), autoimmune endocrine diseases in six (3.9 %), autoimmune rheumatic diseases in six (3.9 %) and vitiligo in four. Autoimmune diseases were more frequent in CVID patients (37.1 %) than in those with selective IgA deficiency (25.5 %) or selective IgG subclass deficiency (12.5 %). Thirty-seven percent of autoimmune episodes occurred prior to the diagnosis of primary antibody deficiency. Sixteen patients (10.5 %) had autoantibodies without clinical data of an autoimmune disease. Conclusions: Primary antibody deficiencies have variable autoimmune manifestations. For early detection and appropriate treatment, autoimmune disease should be suspected in patients with immunodeficiency.
Keywords:
Inmunodeficiencia
Hipogammaglobulinemia
Autoinmunidad
Inmunodeficiencia variable común
Deficiencia selectiva de IgA
Article
These are the options to access the full texts of the publication Allergologia et Immunopathologia
Subscribe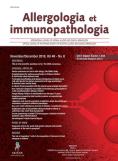 Subscribe to
Allergologia et Immunopathologia
Contact
Telephone
From Monday to Friday from 9 a.m. to 6 p.m. (GMT + 1) except for the months of July and August which will be from 9 a.m. to 3 p.m.
Calls from Spain
902 88 87 40
Calls from outside Spain
+34 932 418 800
E-mail