Article information
Abstract
Full Text
Bibliography
Download PDF
Statistics
Tables (7)
Table. I. Immunodeficiencies of antibody synthesis with special attention to CVID (From the Primary Immunodeficiency Diseases Classification Committee of IUIS. Budapest 2005)

Table. II. Characteristics of memory B-cells
Table. III. Procedure of diagnosis and classification of CVID
Figure 1. --B-cell differentiation from a progenitor stem cell to a pro-B, to a pre-B, and finally to a mature B-lymphocyte (some steps are not shown). The arrows indicate the B cell stages affected by genetic mutations causing immunodeficiency. Within the frame is represented the B cell receptor complex, with the two presently reported mutations, which are located in CD19 and the α chain. ADA affects very immature cells, producing relevant deficiencies; in contrast, CD19 or BcR defects occur in mature B cells. ADA: adenosine deaminase: RAG: recombinant-activating gene; BTK: Bruton's tyrosine kinase; BLNK: mutated B cell-linked protein.
Figure 2. --BAFF (also BLyS or zTNF4) and APRIL factor and the receptors on the cell surface. The proteoglycan receptor is not shown. The functions derived from cell activation are different according to the engage receptor involved. BAFF: B cell activating factor of the TNF family; APRIL: a proliferation inducing ligand; BAFF-R: BAFF receptor; TACI: transmembrane activator and calcium-modulator and cyclophilin ligand interactor; BCMA: B cell maturation antigen.
Figure 3. --Structure of the TACI receptor. The two ligands are bound by the cysteine-rich domain-2 (CRD-2). Molecular oligomerization occurs when the receptor is activated. Six mutations have been described in the TACI gene, located in 17p11.2; two of them affect CRD-2.
Table. IV. Genetic defects reported in CVID
Common variable immunodeficiency (CVID) is a heterogeneous entity characterized by an impaired ability to produce antibodies. The failure is localized in partially mature B lymphocytes, though T lymphocyte abnormalities are occasionally present. This deficiency affects antibody synthesis and class switch from IgD and IgM, to IgG and IgA. CVID is related to selective IgA deficiency, and both abnormalities may coincide in one same family, and evolve from one to another in the same patient. The symptoms generally manifest in adults, but can occur at any age, even in infancy. Recurrent bacterial infections or pneumonias are frequent, and may be complicated by gastrointestinal problems, granulomas, autoimmune disorders or malignancies. A defect in memory B cells seems to condition the clinical severity. Recently, several mutations in genes encoding for molecules (CD19, TACI, ICOS) involved in B cell survival and isotype switch have been identified in patients with CVID. Nevertheless, genetic abnormalities have been found in less than 25 % of cases with CVID; the underlying mechanism thus remains unknown in the majority of CVID patients, and research in this field must continue.
Keywords:
Antibody class switch
Autoimmunity
Common variable immunodeficiency
B cells
CD19
ICOS
TACI
La inmunodeficiencia variable común (IDVC) es una entidad heterogénea caracterizada por la deteriorada capacidad para producir anticuerpos. El fallo se localiza en los linfocitos B parcialmente maduros, pero ocasionalmente existen anormalidades en los linfocitos T. Esta deficiencia afecta a la síntesis de anticuerpos y la clase cambia de IgD e IgM a IgG e IgA. La IDVC se relaciona con el déficit selectivo de IgA y ambas anomalías podrían coincidir en la misma familia y evolucionar de una a otra en el mismo paciente. Los síntomas generalmente comienzan en adultos, aunque pueden aparecer a cualquier edad, incluso en el lactante. Son frecuentes las infecciones bacterianas recurrentes o neumonías, y pueden estar complicadas con problemas gastrointestinales, granulomas, trastornos autoinmunes o neoplasias. Un defecto de los linfocitos B de memoria parece ser la causa de la gravedad de la clínica. Recientemente en pacientes con IDVC se han identificado varias mutaciones de genes que codifican moléculas (CD19, TACI, ICOS) que están implicadas en la supervivencia de los linfocitos B y el isotipo implicado en el cambio. Sin embargo, las anomalías genéticas se han encontrado en menos del 25% de los pacientes con IDVC, por lo que el mecanismo sigue siendo desconocido en la mayoría de los casos, por lo que la investigación debe continuar.
Article
These are the options to access the full texts of the publication Allergologia et Immunopathologia
Subscribe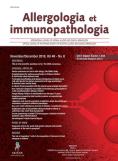 Subscribe to
Allergologia et Immunopathologia
Contact
Telephone
From Monday to Friday from 9 a.m. to 6 p.m. (GMT + 1) except for the months of July and August which will be from 9 a.m. to 3 p.m.
Calls from Spain
902 88 87 40
Calls from outside Spain
+34 932 418 800
E-mail